Senator Wants Liberia To Prepare For Eagles Outside The Country
Published: September 15, 2012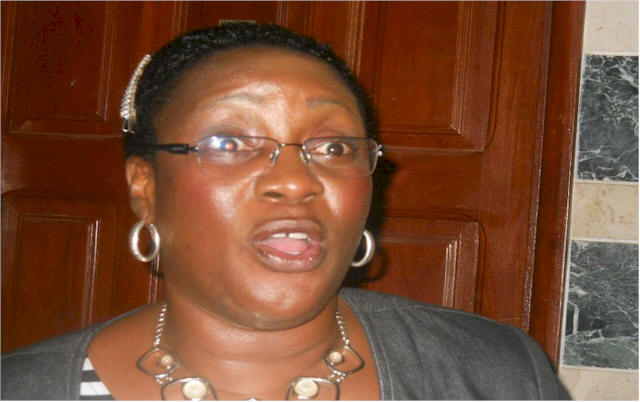 Former female wizard dribbler Geraldine Doe-Sherif, who was popularly known as "Lady Zico" has made a passionate appeal to business institutions and governmental agencies to facilitate the camping of the Lone Star out of the country.
She said camping out of Liberia will provide needed concentration and a positive mind-set to help the team's practice for the Liberia 'do or die' qualifier against the Super Eagles in Nigeria.
The Montserrado County Senator, who played for the Sinkor Lioness Football Club, prior to the 14-year civil war, told our reporter that the out-of-the-country camping will attach importance on the qualification.
The former female footballer, who is also the Co-Chairman of the Lone Star Mobilization Committee made this remark at the Ministry of Foreign Affairs on Wednesday at the end of the President's Appreciation Program for the national soccer team.
"I have been a player…and I know what it means to have a concentrated camp. I would like to appeal to Cellcom GSM, Monrovia Breweries, DSTV, the National Oil Company of Liberia, the Lebanese and India business communities to help facilitate Lone Star's training out of the country.
"We would camp in Togo, Cameroon or Ivory Coast …I mean camping out of the country will be better than camping here," Senator Sheriff said.
She got from her brother Ezekiel Doe, who played for the St. Joseph's Warriors and later the Invincible Eleven. Ezekiel Doe, a master dribbler was renamed Zico by sports writers and soccer fans, after a Brazilian football icon, Arthur Antunes Coimbra, better known as Zico.
The Brazilian Zico was often called the "White Pelé," because he was commonly considered one of the most skillful finishers and one of the best passers ever and possibly the world's best player of the early 80's. He was also known as one of history's greatest free kick specialists, able to bend the ball with pace.
He is the current head coach of the Iraqi national football team.
After Liberia-Nigeria pulsating 2-2 draw in Monrovia, the Lone Star will engage the Super Eagles on Saturday, October 13, 2012 in Calabar, Nigeria.
A win or an above 2-2 draw with the Super Eagles will qualify Liberia for her third appearance at the African Cup of Nations.
(Source: liberiansoccer.com)
Latest News