AHMED MUSA Happy With CSKA Moscow's Victory
Published: September 16, 2012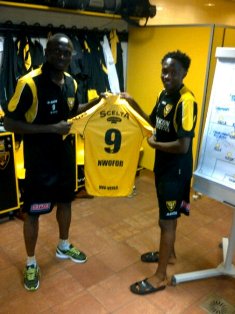 Though he failed to get on the score-sheet, Nigeria international Ahmed Musa is delighted with CSKA Moscow's 2-0 win over Alania in one of the matches of the Russian Premier League decided on Sunday.
''In the first half, the game did not go too well , but after the break we started to play faster. Spaces began to ppear n the defense of the opponent and we took advantage.Understand that in this game we had to win, so I try to keep up and momentum during the match,'' says Musa to
championat.com
.
He added: ''At the appropriate time, we scored the first goal and the game became easier. We may have well won with a bigger score. Though I am a striker I am not upset I did not score. On the contrary, I am happy that the team managed to win.''
Musa, who has been drafted to the forward-line this season from the wings by coach Leonid Slutsky , created the two goals scored by the capital team.
Latest News