BROWN IDEYE Admits Dynamo Kiev Played Badly
Published: September 19, 2012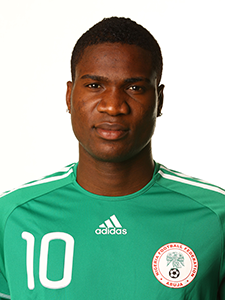 Dynamo Kiev forward Brown Ideye has shared his thoughts and impressions to the official website of UEFA on the 1 - 4 loss suffered by the Ukrainian vice champions on Tuesday night in their first match of the group stage of the Champions League.
''I don't think PSG were too strong for us. They're a good team, but we played very badly and when you play badly you lose. The penalty we conceded for the first goal was a problem. After that we lost concentration.
''I'm used to playing on my own in attack, so I'm not going to complain about that. Sometimes I have a lot of the ball and sometimes I don't. The most important thing is to make the most of the opportunities I get,'' said Ideye.
Meanwhile, former Chelsea defender Alex, who now plays for PSG, has praised the performance of Ideye, admitting that the Nigerian caused problems at the back.
Dynamo Kiev's official website quoted Alex as saying: ''Brown Ideye, who played in the number 11 jersey. He is constantly moving around the field, looking for the ball, aimed at the goalkeeper. Sometimes it was hard to stop him.''
Latest News