NBA Seeks To Take Over YEKINI's Case
Published: September 19, 2012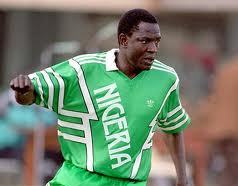 After a long wait without pleasing results, the Nigeria Bar Association, Oyo State branch has signified interest to wade into the investigations surrounding the death of late Super Eagles' striker, Rashidi Yekini.
The was revealed to news men in Ibadan yesterday by the Yekini's Lawyer, Barrister Mohammed Olanrewaju Jibril who claimed he had been blocking his professional body (NBA) that had shown interest in taking over that case right from the onset.
He explained that NBA has began to inquire why nothing tangible has been done in exposing the true circumstances that surrounded the untimely death of the football hero.
Jibril said the reason he had been preventing his body from dabbling into the case was because of the family of his client who are likely going to be the prime suspect in the case going by all the available facts generated so far.
The Lawyer, however, explained that although the family had brought the death certificate of the deceased but he still alleged that "the death certificate has not really clarified other important things like where was Rashidi Yekini between the Monday he was reportedly whisked away from his abode till the Friday he was rushed to the hospital where they claimed he died?
"From my personal investigations after receiving the death certificate, the Doctor who signed it insisted that he had not done anything serious as regards the medical check-up on Yekini before he died when he was rushed into his clinic.
"I have been keeping quiet and hesitating on pressing charges on the family because I don't want to be seen inflicting more pains on them after losing their son. But I won't be able to stop any pressure group that may want to investigate the matter to a logical conclusion.
"I have told them before now and I am using this medium again to appeal to Yekini's family to come out openly and apologise to the whole Nigeria and the world at large over their attitude and on the mistake they made as regards the treatment meted on my client.
"It is my belief that the family was misled by some misleading report they might have read in the newspapers concerning the sanity of my client. Rashidi was their son but he was my client too. He was a hero recognized worldwide, so he should not be treated like just a commoner", Jibril explained.

Akanbi Agiri
Latest News