IGIEBOR's Strange Behavior Criticized In Spain
Published: September 19, 2012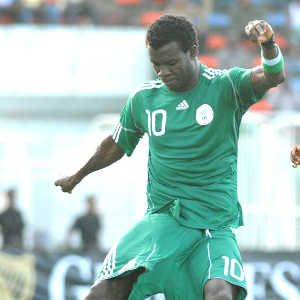 Nosa Igiebor made his much anticipated official debut for Real Betis on Monday night against Valladolid, not without some talking points by the highly critical but knowledgeable Press.
Spanish website
manquepierda.com
berated the Nigeria international for his on and off the field antics. Introduced on the hour mark, it took Igiebor quite an age to get into the field of play before he was hurried by coach Pepe Mel.
And his strange behavior did not stop there. The former Lillestrom star kept adjusting his boots and towards the end of the game ran to ask for water like a traveler in the desert.
Nosa is very dedicated with the National Teams of Nigeria, but must work on his reputation with the Press and coaches, was very unpopular with the media in Israel and Norway. His relationship with the Press in Spain started on a sour note.
He tried everything possible to attend the last Under 23 tournament in Morocco and even took his campaign to the Israeli Media, saying that the country had lost everything and Augustine Eguavoen was counting on him for a successful tournament.
Real Betis are playing a 4 - 4 - 1 - 1 formation this season. Pepe Mel is counting on the Nigerian to flourish in an unfamiliar role in attack behind the main striker.
Latest News