Editorial - OGENYI EDDY ONAZI: Lazio's Rising Star
Published: September 20, 2012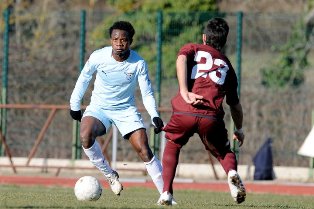 It is very probable that Nigerian teen Ogenyi Onazi will feature in some capacity in tonight's hotly anticipated Europa League encounter between SS Lazio and Tottenham Hotspurs in London.
The young Nigerian, whose rise from a poverty-stricken home in the war-torn city of Jos, Plateau State to a regular in Lazio's first team this season is nothing short of remarkable, has been in fine form this season.
After three straight victories, the Italians are currently sharing the top spot in Serie A with Juventus and Napoli. Perhaps it is a touch of fate that Onazi trained with Tottenham in 2010, Lazio's European opponents tonight, before the deal fell through and the teenager headed off to Italy.
''I am looking forward to the game against Tottenham so I could show them what they are missing for not having me," Onazi confidently told MTN-Football.
However, many may not be aware of the Plateau-State born footballer's unusual rise to the top of the Italian league. Onazi is a product of a charitable football club called 'My People FC', set up by none other than Nigeria's own Pastor T.B. Joshua, the philanthropic leader of Christian ministry 'The Synagogue, Church Of All Nations' and founder of Emmanuel TV.
My People FC, in the words of Joshua, is a club set up to help the less privileged youth of the nation. "I strongly believe the young shall grow,"he said in an interview with Complete Sport.
''They may not be there today, but the future of this country belongs to them. That is why those of us in the position to uplift them need to use every proper means to help them reach their future goals. It is not for them to pay us back when they sign a good contract, but to help themselves, their families, the needy, orphans and the less privileged.
''God wants to raise these footballers to help the widows and become a benefactor to those who need their help in future. The club is part of Joshua's evangelical and charitable activities. It is not for any monetary gain, '' he said. ''It is all about soul winning.''
Thus, it was on the dirt pitches close to The Synagogue, Church Of All Nations in Lagos that Onazi sprang to the attention of Nigeria's U-17 National Team, eventually featuring in the Golden Eaglet's campaign in the 2009 FIFA U-17 World Cup which they ended as runners up.
However, with an injury in the first game limiting Onazi's opportunities at the tournament, it was his counterpart at My People FC, Sani Emmanuel, who grabbed the headlines, winning the Golden Ball and Silver Boot and being crowned the MVP of the tournament.
Driven by the financial support and direction of T.B. Joshua, both Onazi and Emmanuel trialled at clubs around the world including Premiership giants Chelsea and Tottenham, Panathanaikos of Greece and Young Boys of Switzerland. However, it was Lazio that the duo eventually settled for, joining the youth team and making an instant impact with Lazio's Primavera team ending up runners up in the junior league.
Aged just 19, Onazi's pre-season form impressed Biancocelesti coach Vladimir Petkovic and he was promoted to the first team, featuring in almost all of Lazio's opening games, including their last Europa League triumph at Slovenian Club NK Mura
05.
His gutsy performances have already generated positive responses from players and critics alike, many believing Onazi will mature into an important resource for the Italian giants.
Lazio's central defender, Giuseppe Biava, summed up his praise for the young African, saying: ''He's young and has to learn, but I think he will be useful for us this season. Onazi will become important for the future of Lazio.''
The question beckons on when such a player will be called up for Nigeria's National Team, who recently struggled to a 2-2 draw with African minnows Liberia. Perhaps it is time Coach Stephen Keshi injected some young blood into the team who have dropped to an embarrassing low in the FIFA rankings and are no longer the force that they once were to be reckoned with on the world stage.

Ihechukwu Njoku is a freelance journalist based in the United Kingdom
Latest News