STEPHEN KESHI: I Will Take NOSA IGIEBOR To South Africa
Published: September 20, 2012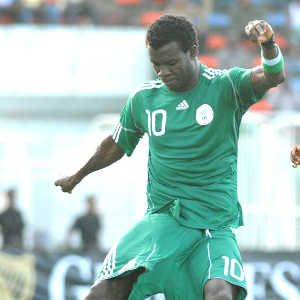 Nosa Igiebor performed well in his first official game for the Super Eagles of Nigeria, and coach Stephen Keshi has hinted to Spanish media
estadiodepotivo.com
that he would be taking the Real Betis midfielder to next year's African Cup if the Super Eagles overcome Liberia next month.
''In his debut in a competitive match Nosa played a great game, played very well and also scored a goal," said Stephen Keshi, who relies heavily on the qualities of Nosa and his contribution to the 'Super Eagles'.
"He is a hard working player and has a great ability to see the final pass. Has a very hard shot and not only makes goals but also creates them, but above all, he is a young guy with a great future ahead ".
South Africa host the 2013 edition of the African Cup of Nations from January 19 - February 10. And if Nigeria qualifies as widely expected, Nosa Igiebor could miss five league games against Levante, Athletic, Rayo Vallecano, Atletico Madrid and Valladolid.
''Of course I'll take him, but first we have to qualify for the finals to be played in South Africa in January," said Keshi to estadiodeportivo.com with great caution, because first of all, Nigeria has to beat Liberia at home on 13th October.
(Source: estadiodeportivo.com
)
Latest News