Liberia Supporters To Storm Calabar, FA Spends =N=2 Million On Trip
Published: October 11, 2012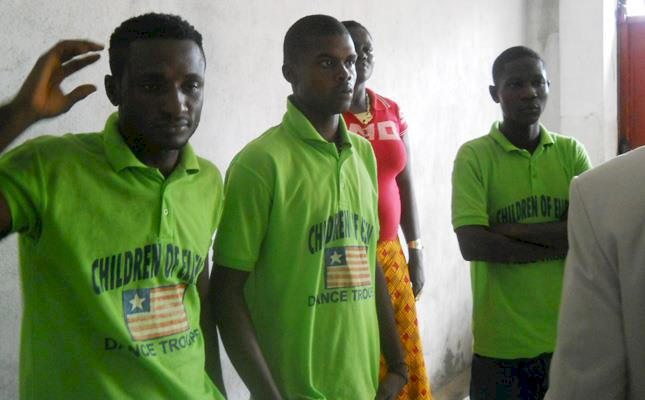 Source: liberiansoccer.com
The headship of the Kolakeh Dance Troupe, dubbed "The Children of Ellen Dance Troupe" has expressed satisfaction for the group debut inclusion to "cheer" the Lone Star to victory on Saturday, October 13, 2012 in Calabar, Nigeria.
Kolakeh, is a Mano vernacular, which means "We will do it." Its members are dominantly of the Kru ethnic group and is comprised of three artists: drummers, singers and dancers.
The group's Deputy Director Joseph Tarplah told our reporter in an exclusive interview yesterday via mobile, the Liberia football chief Musa Bility has guaranteed their inclusion.
He said the best three drummers and four dancers, who are also singers, were selected from their membership, and has vowed to perform their duty, to cheer, chant, sing and dance during the football game to excite the crowd.
The group, based in New Kru Town, on Bushrod Island in Monrovia, also vowed to raise the players' spirit for victory.
"We thank the football house, for the privilege given us and we are confident to excite the crowd, most especially our Liberian Lone Star…we perfect all the Lone Star songs and we are going to cheer them up," Tarplah said, excited.
When contacted the LFA President Musa Bility confirmed the inclusion of seven members of the Kolakeh Dance Troupe for Nigeria.
He said the LFA is responsible for the airfare, local transportation, game tickets, hotel accommodation as well as per diem for the dance group at the cost of about US$12,000.
"We expect the troupe to offer offensive, defensive, and general cheers and chants to raise the crowd's spirits during the Liberia and Nigeria's football match," he said.
Meanwhile, Cellcom has announced details or the travel plans for the Lone Star versus Nigeria's Super Eagles' match scheduled on October 13, in Calabar, Nigeria.
The national team's sponsor said it has chartered a 125-seater plane (Boeing 737) which will take the Liberian delegation, including the national team and LFA technical support staff, lucky winners of the Cellcom "Win-A-Trip" raffle and Cellcom employees, and other supporters, to the game in Nigeria.
The charter flight will depart Roberts International Airport on Thursday, October 11, and return on Sunday, October 14.