WILSON ORUMA Winning Souls For GOD
Published: October 11, 2012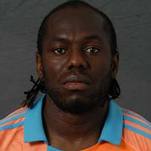 Former Super Eagles midfielder Wilson Oruma has now gone into full evangelical ministry, winning souls for God following his retirement from active football early this year, National Mirror can exclusively report. The former Marseille midfielder, who is currently based in Warri, has already started a nationwide evangelical mission that will take round the 36 states of the country.
Oruma, National Mirror gathered, was struck by the spirit of God when he came across the gospel book 'Prepare to meet your God!' written by an Ecuadorean lady, Angelica Zambrano, who met God and was equally shown the kingdoms of Heaven and hell, forcing the former Golden Eaglets captain to fully give his life to God and wins souls for the Almighty.
The book soon became Oruma's daily companion and he used his money to print 50 000 copies which he distributes free to people. The evangelical works have also taken the talented soccer star to the major cities like Abuja, Lagos, Port Harcourt and his home town of Warri, where the books have been massively distributed.
Oruma has also engaged the services of some of the retired footballers, prominent among them, is former Nigerian League top scorer, Emakpor Dibofun, who helps to distribute the books.
"Oruma doesn't joke with his ministry work," Dibofun told National Mirror.
"He has also ordered for more 50 000 copies of the book to be printed and very soon, we will take the delivery of the books.
"He's well known in top circles in Warri and is always invited by top government officials for his evangelical works during any government functions.
"He also targets large gatherings at local soccer competitions and he makes sure his books are well distributed. He also distributes the books personally.
"He's not yet into church thing yet but his main focus is making sure the books are well distributed to as many souls as possible."
Oruma is one of the few Nigerian players who is into evangelical ministry. Former Super Eagles defender Taribo West also owns churches in Nigeria and Italy.
Photo Credit: nairasource.com