EJIKE AWURUM Claims Costa Do Sol, Ferroviario de Maputo Interest
Published: October 12, 2012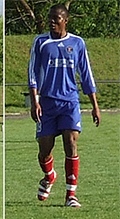 Little known Nigerian forward Ejike Awurum on the back of a successful season with second division Mozambican club Baleia MG claims to be on the wishlist of two big clubs in the country.
The 22 - year -old emerged the top scorer last term in Mozambique's second - tier, and this has sparked interest for his services.
''I'm working on my papers right now since the season ended and I hope in the next few days, I will sign a contract.
''Right now, Costa Do Sol and Ferroviario de Maputo have shown interests in me and a few clubs in South Africa.
''But my manager is working on them and the picture will get clearer soon,'' says Awurum.
Awurum had previously tested with teams in Denmark, Croatia, Lithuania and Serbia but was unsuccessful.

Photo Credit: fkekranas.lt