Controversy Trails Chikeluba Ofoedu's Transfer
Published: October 19, 2012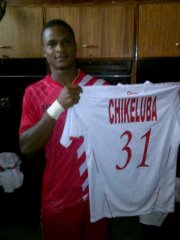 The transfer of Chikeluba Ofoedu to Turkish club 1461 Trabzon has taken a new twist as Oak Zeel FC of Enugu, the rightful owners of the player have cried foul, stating that they were not aware of the transfer of the player to any foreign club and have not received a dime as clearance fees for his loan transfer.
According to our sources, Oak Zeel signed Chikeluba Ofoedu alongside Aniamalu Chidubem from UNTH Healers FC of Enugu in April 2011. Soon after, Chikeluba was discovered to have started playing for Rangers Intl in the Premier League on a provisional clearance issued by the Enugu FA and oak Zeel immediately petitioned the Nigerian Premier League withdrawing the player from the league. The NPL investigated the matter and ordered Rangers to settle with Oak Zeel before they could register the player for the second round.
Subsequently both Enugu State clubs entered an MOU to the effect that the player was released on a free loan to Rangers and in case of any foreign transfer of the player Rangers would get 20% of the transfer fees and Oak Zeel 80%.
However, when Chikeluba signed for the Turkish club on loan Oak Zeel were kept in the dark by the player and his agent as they told his new club that he was a Rangers player maybe to raise his stock but the Nsukka based club have since challenged this and their lawyers have written 1461 and given them a deadline to correct the matter by giving a full disclosure of the financial terms of the loan agreement, demanding that Rangers be instructed to release the loan fees to them and finally demand that the club acknowledge that they are the rightful owners of the player and only party to deal with whenever they are interested in his outright clearance otherwise they will take the matter to the Turkish FA and FIFA.
It is said that a top member of the Enugu State FA is fighting against Oak Zeel for his own selfish reasons but the management of the club have vowed to do all that is legally possible to ensure their rights are not denied them.
Johnny Ogbah
Foreign Correspondent