MICHAEL ODIBE: JUANDE RAMOS Praised The Team For A Good Game
Published: October 30, 2012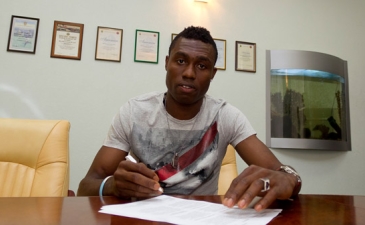 Michael Odibe has commented on last weekend's Ukrainian Premier League match between his club Dnipro Dnipropetrovsk and Karpaty.
This was one of Odibe's best matches since his arrival from Arsenal Kiev in the summer transfer market. The one cap Nigeria international scored his first goal of the season, and was fouled for a contentious penalty kick coolly slotted by Seleznyov.
'' I would not say it was the best match in Dnipro - there were good matches before. Moreover, still plenty of room for progress. After the game, Juande Ramos did not single out anyone, but praised the team for a good game and dedication,''
championat.com
citing Ukrainian media quoted Odibe as saying.
Finally, Odibe disclosed that the penalty kick awarded by referee Yaroslav Kozyk was deservedly earned, stating that he would have scored if he had not been fouled by the opposition.
Photo Credit: Official website Dnipro