IDOKO OGIKE FRIDAY Targets Move To Europe
Published: October 31, 2012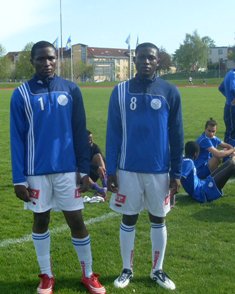 Despite being on the wanted list of some clubs in the Nigeria Premier League, Apa United rookie Idoko Ogike Friday has revealed his interest to move to a European club.
It would be recalled that the 18 - year - old defensive midfielder tested with Swedish club Sundbybergs IK in May but was not offered a contract at the end of his trial period.
''If I am to choose between Europe and the domestic championship, I would go for Europe. And why not? The welfare of a player is not taken for granted, coupled with the facilities.
''I pray the Nigeria League comes to the level of its European counterpart to stop players from moving abroad. The Egyptian , Tunisian and Algerian Leagues, there is so much emphasis on welfare, so their players are not even interested in leaving the country,'' Idoko confessed to
allnigeriasoccer.com
.
Idoko, who models his game after Chelsea defensive midfielder John Obi Mikel, trained with the Nigeria Under 23s last year.