PETER UTAKA Vows To Remain At Dalian Aerbin
Published: November 05, 2012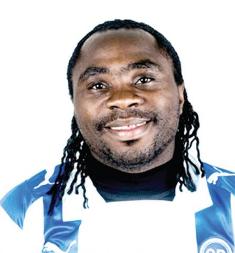 Peter Utaka is disappointed that Dalian Aerbin did not qualify for an AFC competition next season after they finished fifth in the Chinese Super League.
Going into the last round of matches, a loss by Guizhou Renhe and victory by Aerbin could have guaranteed Utaka and his colleagues fourth spot in the rankings.
Against Hangzhou, Utaka, once again, proved his prowess in front of goal by scoring in the 56th minute, which turned out to be the match winner.
''I am very, very happy that I scored. However, the most important thing is that I am my teammates fought together today (Friday, ed). And what we have to do is to put in more effort to prepare for next season,'' Utaka was quoted as saying by
Netease Sport.
With his displays in his first season in China, there is banter that Utaka could return to Europe, as many clubs have expressed interest in his services. But the former Odense hero has vowed to continue his adventure with Dalian Aerbin.
''I have a contract with Aerbin. I abide by my contract, I Aia Er Bin, I love Dalian! " says Utaka to
Netease Sport
.
Peter Utaka is expected in Nigeria in the coming days for an important event. His cousin is getting married and he is the best man.
Photo Credit: uefa.com