Ogedegbe Lecture: ODEGBAMI Weeps Over Plight Of Ex Footballers
Published: November 07, 2012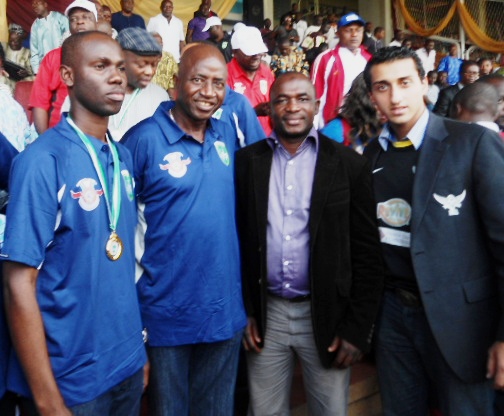 Former Shooting Stars and Green Eagles' Captain Segun Odegbami has expressed angst and disappointment over the pitiable condition of some of ex-footballers who have meritoriously served the nation during their active days.
The ex-international revealed this amidst sobbing while delivering a lecture in the 3rd Best Ogedegbe Memorial Lecture, an event organized in memory of late former Green Eagles goalkeeper in Ibadan on Tuesday.
Odegbami in his 6-page paper noted that "when footballers complete their assignment as players and retired from the game, they enter another phase of their journey completely different from the first.
He maintained that "There is little or no provision in the system to adequately accommodate them, so therefor they end up in jail of neglect, sickness, joblessness, depression, and premature death. The system not only forgets them, but forgets the family they leave behind".
The ex-winger however, described the life of a footballer after football, as a condemnation to a life of regret, painful old age and abject penury, affirming that, the picture he painted is actually the reality.
While reflecting on the ugly side of the ones (footballers) that are still living Odegbami noted that their tales is like of the living dead.
"Many of us, heroes ofour various generations in the chronology of football, are still alive but barely living through a journey that has turned from good, to bad and now to the ugly".
He used himself as an example to better illustrate his points, saying "let me tell you about the physical damages you cannot see under these fine clothes. My thigh muscles, once taunt and toned like that of a racing horse, is now thin and drooping with wrinkles like the withered breast of an old woman".
"The muscle cannot even now support my body weight properly anymore. So I walk wracking with pains and my limp. For over 10 years I have been having palpitations, my cholesterol level was high, I have been on a daily dose of pills I must take for
the rest of my life in order not to go blind.
"There is pain in my waistline. There is more I suffer from. Yet I count myself as one of the lucky among our generation. Have you seen Adokie Amaisimaka lately? Or Emmanuel Okala, Kadiri Ikhana, Joe Erico, George Omokaro, Mike Okotie, Peter Fregene or Demola Adesina. All these great football heroes are alive, but every single of them has become physically challenged".
Among eminent football personalities that graced Ogedegbe's memorial lecture are Chief Adegboye Onigbinde who chaired the event, Coach Joseph Ladipo popularly known as Jossy Lad, Coach Niyi Akande, Rtd. AIG Tunji Alapini, Oyo State House of
Assembly's Deputy Speaker, Babatunde Olaniyi, Oyo State Commissioner for Youths and Sports, Dapo Lam-Adesina.
3SC's board Chairman, Toyin Akintunde and his predecessor Elder Bode Oyewole.
Play-mates of late Ogedegbe that were in attendance are Moses Otolorin, Nathaniel Adewole, Idowu Otubusin popularly known as Slow Poison, Amusa Adisa, Kehinde Jayifus among others.
Akanbi Agiri