OLUFEMI OLADAPO To Leave IK Start
Published: November 07, 2012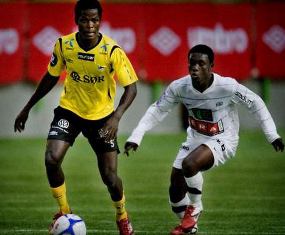 Norwegian media has disclosed that the expiring contract of former youth international and IK Start central midfielder Femi Oladao won't be renewed.
Unlike compatriot Solomon Owello who started all the 29 games played by IK Start in the Adeccoligaen this season, Oladapo has not had much playing time, so it is not surprising that the
hierarchy has chosen not to extend his three - year romance with the
Kristiansand based

club.

''I have to go in life. I enjoy being here, there are lots of great people in and around the club, but as a player you have to play. There is no sense to remain here as long as you get little playing time.

''I have checked the possibilities to continue elsewhere than in Start, but right now I can not say much more about it. I'm a Start-player this year. But I'm done here,'' says Oladapo to fvn.no.

Olufemi Oladapo, 24, has been courted by teams in UAE and Belgium in the past.

Latest News