ENYEAMA Gets Cold Reception From Hapoel Fans
Published: November 13, 2012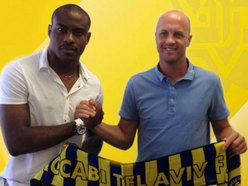 Last weekend, Nigeria's numero uno Vincent Enyema returned to face his old club Hapoel Tel Aviv in the ninth round of games in the Israeli championship.
As expected, Enyeama was taunted by the home supporters, who still regard him as a traitor for joining their bitter rivals in the summer transfer market. Every time he touched the ball, the fans jeered and booed him.
''I was expecting much worse reception. For me it was as if they missed me.'s Okay. Knew it would happen, I expected it,'' Enyeama was quoted as saying by
sports.walla.co.il.
Had they won the game, Maccabi Tel Aviv would have opened a nine - point gap over one of their closest challengers for the title. Omer Damari's 80th minute goal from the spot decided the tie.
''This is football, even if we would get the advantage of nine points, still remain more games to play, are we not playing until the end of May, this is a very long way. Have many more games. We've lost the game and lost three points, now we just have to go back to the drawing board. We are two points ahead and we fight until the end,'' adds Enyeama.
Maccabi Tel Aviv welcome Bnei Yehuda to the Bloomfield Stadium on Friday. Enyeama spent two seasons with
The Lions
from 2005 - 2007.
Photo Credit: Maccabi Tel Aviv

Latest News