Frenage Backs ODEGBAMI Over Plight of Ex Footballers
Published: November 14, 2012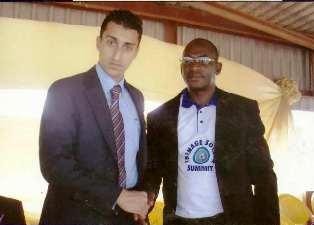 The CEO of Ibadan based FRENAGE-Progression International Soccer Academy; Prince Oluwole Ololade has backed the view of the former Shooting Stars and Green Eagles' Captain Segun Odegbami on the pitiable condition of some of ex-footballers who have meritoriously served the nation during their active days.
Odegbami expressed this view while delivering a lecture at the recently held 3rd Best Ogedegbe Memorial Lecture, organized by Oyo State Chapter of Sports Writers Association of Nigeria in Ibadan where he called for urgent attention to the plight of some ex-footballers.
The FRENAGE boss, who was at the event, applauded Odegbami over the 6-page paper he presented which gave an insight into the challenges faced by most of our ex-football players who had served the nation at one point or the other in their playing careers.
He however, in his reaction to newsmen after the event revealed that his firm would be more than willing to engage or give any ex-player an employment opportunity to contribute one thing or the other to the residential soccer course programme that is being run by Frenage Academy.
He added that the Academy has capacity for almost 80 players in Nigeria camp and can also accommodate 50 players in their European Camp which gives room for many technical personnel to come in and contribute.
Saying "when footballers complete their assignment as players and retirefrom the game, they enter another phase of their journey completely different from the first one, and that is when they should be celebrated more".
Ololade explained that FRENAGE engage the services of expatriates to structure the psyche of their product towards what is obtainable at the global level, so that players from them can easily fit into any team in Europe and anywhere in the world.
Akanbi Agiri
Latest News