BROWN IDEYE Happy With Three Points
Published: December 01, 2012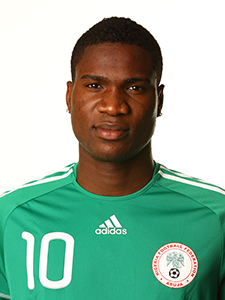 Dynamo Kiev forward Brown Ideye has commented on the capital side's 4 - 2 away win over Hoverla on Friday evening, a game which corresponded to the 18th round of matches in the Ukrainian championship.
Dynamomania.com
quoted the Super Eagle as saying: ''It was a tough game because the field was very poor. Because of this, we have tried to play with long passes, but the most important thing is that Dynamo won three points. It is important that we finish this year with victory.''
Against Hoverla, Ideye notched his 13th goal of the season, surpassing his 12 - goal tally of the 2011 - 2012 campaign.
''
Yes, I'm very happy.
Dudu gave me a long ball, I did not drop the ball on the ground and shot was accurate,'' Ideye said.
Latest News