EMMANUEL ADEBAYOR Quits National Team Again
Published: December 02, 2012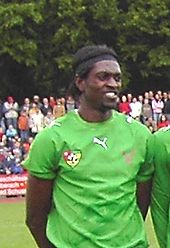 Togo captain Emmanuel Adebayor, who is of Nigeria descent, has quit the National Team for the umpteenth time. This August, the Spurs forward returned to the Hawks after a self imposed hiatus.
Consequently, if Adebayor carries out his threat, he would be unavailable for selection at the 2013 African Cup in South Africa.
''Togo international and captain of the Sparrow Hawks Emmanuel Sheyi Adebayor hereby brings to the notice of the general public that he is suspending his international career with Togo team,''the ex Arsenal star said in a statement released to the media.
Adebayor says he is quitting the side due to the disorganization in the National Team set up, non - payment of bonuses and lack of preparation for the 2013 Cup of Nations. He claimed that the players have not been paid their match bonuses following the victory over Morocco in a friendly held last month.
In response to the allegations, Togo Football Federation through its president said the money received by the Federation for the Morocco friendly was used to settle flight tickets of the delegation.
''The federation has received from the State the sum of 19,229,200 CFA francs (30,500 euros) for the reimbursement of tickets for some players whose travel documents have not been issued, payment of premiums camp, laundry charges, pharmacy and water. In any way, the organizational costs paid by the host country were intended to pay bonuses of players win.
''Togo has no problem of equipment. Certainly, the firm Puma has sent material to the FTF, but it was approved in Lomé on the eve of the match against Morocco. In addition, the FTF would like to reassure the public that the facilities of the national team have always been well managed regardless of where they are kept,''the president of the Federation was quoted as saying by
togofootballnews.com.
It would be recalled that Adebayor retired from the National Team in May 2010 after the drama in Cabinda.
Photo Credit: Wikipedia
Latest News