Eko 2012: ONYEDINMA Rates Women Soccer Events High
Published: December 04, 2012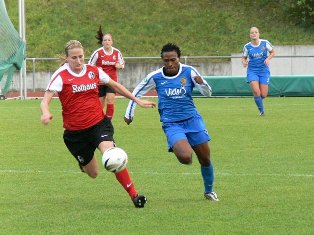 The Chairman Nigerian Women Football League, Chief (Mrs.) Dili Onyedinma has given a pass mark to the facilities and high soccer standard displayed by teams that are jostling to qualify for the second round of the women soccer event at the on-going 18th National Sports Festival tagged Eko 2012.
The Women League boss made the remark while speaking with newsmen after Lagos and Edo Match played at Agege Stadium, where she commended the zeal and fighting spirit put up by the girls, especially in the final round of the preliminaries matches.
"The fighting spirit I have seen in these young players is highly commendable and it gladdens my heart, they have displayed the trait of a typical Nigerian women player, which is the difference between us and others in Africa".
"This development is also an indication that Nigeria's future in women football is bright and promising. We have just finished our League and everybody that watched the final of women Super six can attest to the high football standard displayed by the Delta Queens and Rivers Angel who played at the final in Abuja".
"Irrespective of the outcome of the last African Women Championship, (AWC) held in Malabo, Nigeria still remains a super power of African Women Football, and either anybody like it or not we will reclaim our crown", Onyedinma noted.
Akanbi Agiri
Latest News