KINGSLEY UDOH, AMODU Did Not Impress Penarol
Published: December 10, 2012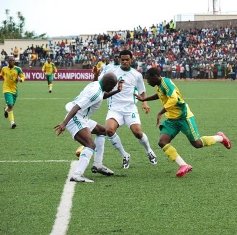 Former Under 17 world champions Kingsley Udoh and Usman Amodu
will not be offered contracts by Uruguay giants Penarol, reports in the South American country have disclosed.

Elobservador.com.uy says Kingsley Udoh failed to impress coach
Jorge Goncalves after close to two weeks of trials.

On the other hand, left back Usman Amodu convinced the technical bench but there are players at the club who play the same role. Also, the club want to promote indigenous players.Consequently, he will leave Uruguay empty-handed, without a contract.

Udoh and Amodu will depart Montevideo for Nigeria on Wednesday December 12.


Latest News