Wenger Lavishes Praise On Chuba Akpom
Published: December 10, 2012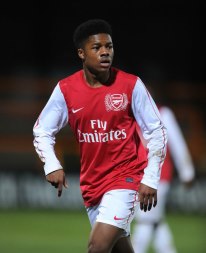 Arsenal boss Arsene Wenger is impressed by teenage striker Chuba Akpom.
Akpom has already scored three goals for Noel Blake's England Under-19 side this season, and has forced himself into Terry Burton's Arsenal Under-21 side.
"He has personality [and] he has quality," Wenger told Arsenal Player.
"I wanted him to be with the first team, taste what it is [to be involved] in a Champions League game, and hopefully he will join us very quickly. It could happen very soon.
"He's more a guy who likes to participate in the build up, a guy who is brave, a guy who makes good runs and is not a typical goal chaser.
"Where he must improve is to finish things off. But he creates for others, he creates for himself, and just needs to be a bit calmer for the finishing. That's something he will get easily."

-Thanks to Tribalfootball.com
Latest News