AHMED MUSA Is Third Best Player In Russia
Published: December 12, 2012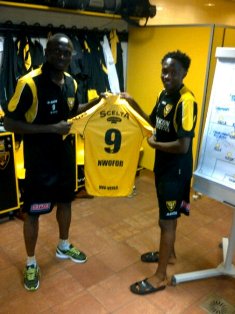 Renowned Russian portal
championat.com
has released its eagerly anticipated Best Player in the Premier League for the month of November and December. Journalists and fans picked the star performers in the championship.
The panelists chose the new golden boy of Nigerian football Ahmed Musa as the second best player in the RPL. With a total score of 11 points, the 20 - year - old Nigeria international,
Alexander Kokorin of Dynamo Moscow and Axel Witsel of current champions Zenith St Petersburg placed second, 4 points behind Kevin Kuranyi (Dyanmo Moscow), who won the award.

In another category - the best player in the championship since the start of the season - Musa placed third with 26 points. Dynamo Moscow's Alexander Kokorin is the top player in Russia; he had a total of 43 points. And in second position is Zenith's Russian international forward Alexander Kerzhakov.

Ahmed Musa, who is expected to be named in the Eagles African Cup of Nations roster, notched 3 goals in 5 matches in the month of November and December.