ADEBAYOR Will Play For Togo At Afcon
Published: December 13, 2012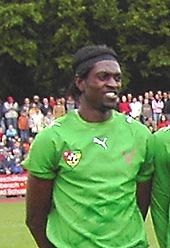 Tottenham Hotspur attacker Emmanuel Adebayor has resolved his differences with the Togo Federation and has made a U - turn on his decision not to play for the Hawks at the African Cup of Nations, the president of the FTF has said in an interview.
''The Togolese Federation remains committed to him, and do not worry, he will be right there with us at the CAN," Ameyi said.
"Adebayor is a great man and a great player. We respect each other,'' Gabriel Ameyi stated.
Adebayor had earlier quit the National Team due to non - payment of bonuses after the exhibition game with Morocco and lack of preparation for the 2013 Cup of Nations.
Togo are in the same group with one of the pre - tournament favorites Ivory Coast, Algeria and Tunisia.
Photo Credit: Wikipedia