Alania, Krylia Sovetov Samara Ponder Move For JULIUS AGHAHOWA
Published: December 21, 2012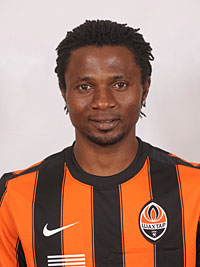 Free agent Julius Aghahowa could join Russian Premier League club
Alania Vladikavkaz in the January transfer window, according to information from lifesports.ru .

The representatives of Julius Aghahowa are searching for a new club for the former Nigeria international. They are understood to be in contact with Russian clubs Alania and Krylia Sovetov Samara, and some teams in the Ukrainian championship.

Aghahowa's contract with champions Shakhtar Donetsk expired in the summer. Since then, he has been searching for a new team without success.


He spent close to a decade with Shakhtar Donetsk helping the 2009 UEFA Cup winners win six titles during that period.
Photo Credit: Shakhtar

Donetsk