EXCLUSIVE:HODDLE is the right man for Nigeria
Published: February 25, 2010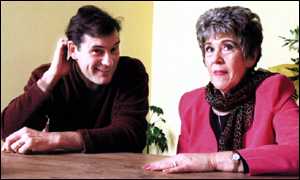 The editor of one of the top football websites in the world,Tribalfootball.com,Chris Beattie, has spoken exclusively again to allnigeriasoccer.com on Glenn Hoddle,who is expected to be announced tomorrow evening,February 26th, as the man to tinker the Super Eagles of Nigeria to the mundial .Beattie is an expert on British football and is highly regarded in the United Kingdom.
''If it can be sealed, the NFA have to be congratulated for such a creative move. Hoddle's appointment ticks so many boxes, it smacks of the ideal move for Nigeria.He has previous World Cup experience, his profile means he will win instant respect from the foreign-based players, he insists on an attractive style of football and he also will have a point to prove over the way he's been frozen out of English football since leaving Wolves almost four years ago. It's a great fit for Nigeria.
''Inside the game, Hoddle is still regarded among the best coaches in England.You only have to see the tremendous results he's had with his Spain-based youth academy to understand the qualities he will bring to the Nigeria job.
For the past two years he's been helping young players released by English clubs to get their careers back on track. Through his management and coaching, Hoddle has managed to assist a number of 'rejects' find new playing contracts - even in the Spanish Primera Liga.
''Can you imagine what he could do with the young Nigerian talent if given the chance?Hoddle's his own man, so there will be some controversy along the way. He's not afraid of making unpopular decisions and some of the older players will be looking over their shoulders if they cannot fit into his system.''
''But I really think Hoddle, with his qualities, experience and that little chip on his shoulder to prove people wrong, is someone the Nigerian football public can really embrace." Beatie told allnigeriasoccer.com.
Hoddle played alongside the great George Weah at Monaco under the tutelage of the current Arsenal coach,Arsene Wenger.He's managed Chelsea,Swindon Town,Southampton,Tottenham Hotspur,Wolves and of course England.He featured 53 times for England scoring 8 goals and is generally regarded as the most gifted player of his generation.A knee injury cut short his professional career and he retired from the game quite early.Hoddle managed England for two and a half years, after making those infamous comments about disabled people,he was axed by the FA.To this day,Hoddle insists he was misquoted by the Times of London who first broke the news.Like Amodu, the''new Nigerian manager'' who is expected to be unveiled as coach tomorrow evening is known to court faith healers.He formed a relationship with Eileen Drewery,a faith healer and took her to the World Cup in France in an official capacity.Hoddle dated Eileen Drewery's daughter when he was a teenager.
Story by Ifeanyi Abanum
Executive Editor
www.allnigeriasoccer.com
Copyright 2010 allnigeriasoccer.com All rights reserved