Game Should Build Confidence - Bright Dike
Published: January 04, 2013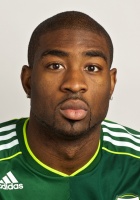 Bright Dike notched his first international goal against some of the best players in the world, the Catalonia National Team, on Wednesday night.For now, this should rank as the most important goal scored by the Portland Timbers man in his 8 - year career.
The 1 - 1 draw against the star- studded Catalonia will lift the Eagles leading to the African Cup of Nations, the attacker disclosed.
Dike told
MTNFootball.com
: ''This game should build confidence and belief in the team. It was a tough match, they possess the ball very well. We made some mistakes but that is what all of these games are for to correct those mistakes.''
In addition, he dedicated hid debut goal for the National Team to God and thanked teammates for their support.
Photo Credit: Portland Timbers