Agent: Babadidi Did Not Speak To Media About Venlo Deal
Published: January 11, 2013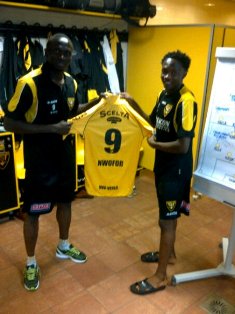 Agent Tony Harris has dismissed local media reports that his client Mustapha Babadidi has sealed a four - year contract with Dutch club VVV Venlo.
''It is not true that Babadidi has spoken to the media about an imminent transfer to Europe (Venlo, ed). Everyone knows Babadidi is a talented player and it's a no-brainer that he will end up in Europe however there's no need for anyone to speculate. When the time is right, details of his transfer will be revealed accordingly," Harris told
supersport.com
.
Had it not been for injury, 19 - year - old Babadidi may have ended last season as the top scorer in the Nigeria Premier League. The Super Eagles hopeful netted 10 goals in14 matches before injury slowed his progress.