Joseph Yobo: Our Focus Is To Get Past The Group Stages
Published: January 21, 2013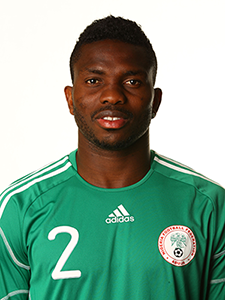 Skipper Joseph Yobo could equal Nigeria legend Nwankwo Kanu's record of six appearances at Africa's premier soccer competition if he is considered for selection in the eagerly anticipated clash against Burkina Faso on Monday evening.
The Fenerbahçe center back who could be playing in his last major tournament for the Super Eagles is staying positive ahead of the mouthwatering tie against The Stallions. With a relatively inexperienced squad, Yobo has admitted it won't be easy for Nigeria to be crowned the continent's best team on February 10.
''Winning the trophy is not going to be easy but I promise we will give it our best shot. Let us not get beyond ourselves. The focus for now is on getting past the group stages and only then should we think about quarter-finals and, hopefully, the semi-finals and final,'' Yobo told reporters.
Chelsea winger Victor Moses won't suffer stage fright having played against some of Europe's finest teams in the Champions League. The youngster says the team will compensate the teeming fans for missing the previous edition of the African Cup of Nations.
He said: ''We have prepared well and, having missed the last tournament, wish to make Nigerians proud by the end of it."
Latest News