Herve Renard : We Have Our Destiny In Our Own Hands
Published: January 25, 2013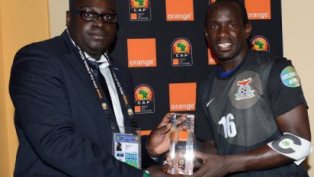 In his post match comments after the Zambia - Nigeria Group C cracker, coach Herve Renard says the hopes of Zambia qualifying for the quarter-finals of the African Nations Cup is still alive.
He told
afcon2013online.com
: ''It started out a typical game you would expect under these circumstances but the goal changed it all. We had to dig deep to find strength within ourselves. Nigeria has three very good strikers but fortunately for us we made it from this game. We now have to wait for the final group game against Burkina Faso to see what happens next. We have our chance and destiny in our own hands . I think we are still capable of qualifying to the quarter finals.''
Officially, goalkeeper Kennedy Mweene, was named Orange Man of the Match. He scored from the spot to give Zambia an unlikely point with five minutes of normal time remaining.
''We are not champions for nothing. It is by the grace of God that l am able to take and save penalties. All the teams are playing at the same level, if you come here and think that you will play against small teams you will be disappointed. So we will appreciate that God gave us one goal. We still have to play and work even harder to win a match,'' Mweene said.
Photo Credit: zambianfootball.co.zm
Latest News