Swedish Tribunal Rules In Favour Of Kennedy Igboananike
Published: January 29, 2013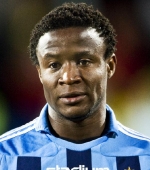 Kennedy Igboananike has left Djurgården IF and signed for bitter rivals AIK as a Bosman player. Last year, however, was problematic for him in DIF. The striker was declared surplus to requirement in the autumn and was subsequently sent to train with the Under 19 squad.
Nigerian moved back into the first team this summer. Kennedy Igboananike did however proceed with the case to the tribunal and accused DIF for breach of contract.
Following his relegation to the Under 19 squad, Igboananike said he had the right to terminate his contract with full compensation by DIF.
Now the judgment of the tribunal arrived, and it is to the player's favor. Igboananike's agent, Innocent Okeke is happy with the news.
''It feels really good that we won. It has taken a lot of effort, energy, and has been distressing for the player. This judgment is not only about Kennedy Igboananike but about soccer in general. It's about the club to respect the agreement and what you can do and not as an employer and the club, ''Okeke told
SportExpressen.se
.
The financial compensation Igboananike will demand from DIF has not been discussed, according to his agent.
Source: fotbolltransfers.com