Emmanuel Emenike: We Have Learned Our Lesson
Published: February 10, 2013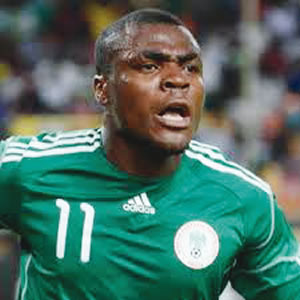 There is still suspense on the availability of Spartak Moscow attacker Emmanuel Emenike for the final of the African Cup.
The 25 - year - old Super Eagle, top scorer in the tournament, has picked his goal against Ivory Coast in the quarterfinals as the most important strike.
Sport Express Russia
with reference to
RFI
quoted Emenike as saying: '' I scored a free-kick against a great team and was insanely happy. At first, I thought about how to become a better scorer. I wanted to win the African Cup of Nations. Now, if we can, I'll be more happy.''
Emmanuel Emenike is not surprised that the Eagles opponents at the National Stadium Johannesburg, Burkina Faso qualified for the Afcon finals.
''Even during the tournament, I told my teammates that this team should be taken seriously. And now Burkina Faso like us, there's a special feeling. In the group stage, when we met with Burkina Faso, the opponent at the end equalized. We have learned the lesson and now we will be alert,'' Emenike said.
The physical forward is being linked with a summer move to the English Premier League, with Arsenal said to be leading the sprint for his signature. Many observers have picked him as the discovery of the tournament.
''I would not say I'm the best. Entire team. And yet we have a supertrainer who believed in me, even though I did not show anything that I was a genius in the national team. By the way, at first our coach was criticized. I played well for the team, but did not score enough goals in its composition, in contrast to Spartak Moscow. Grateful to the coach that he gave me a chance.''