Timothy Anjembe Opens Up On Failed Haugesund Trial
Published: February 15, 2013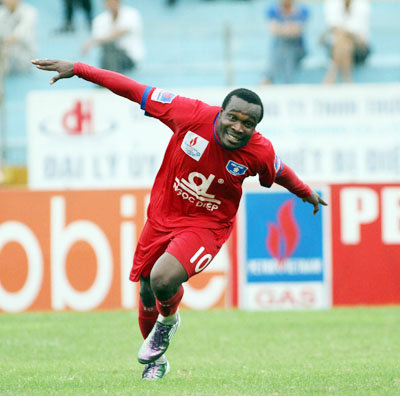 Former highest goalscorer in the Nigeria Premier League, Timothy Anjembe was one of the five Nigerian players that tested with Norwegian club
Haugesund in November 2007.


Nils Halvor Berge, then the sporting administrative manager of FKH, labelled the Nigerian testers - Anjembe, new Super Eagles hero Sunday Mba,
Obinma Allen, Obinna Okafor

and Kabiru Alausa - bad players. Consequently they were not good enough to be offered contracts by the Rogaland based outfit.

For the first time, Timothy Anjembe, now playing for Vietnamese club
Vissai Ninh Binh, has spoken on the failed trial with
Haugesund. He has admitted that the players experienced extreme weather conditions and this affected their performance.

''I am hearing that for the first time. Maybe, we were not what he (Nils Halvor Berge, ed) was expecting. As you are aware some clubs will prefer Messi to Ronaldo even though they are both good in their positions.

''We stayed there for just a week and it was very cold in Norway. We trained twice indoors as it was snowing seriously outside. You can't expect a footballer coming from Africa to succeed under such circumstances,'' Anjembe told allnigeriasoccer.com.

He continued: ''The club did not give us enough time to prove ourselves. We
were introduced in the second halves of both games,

played for 10 minutes in each of the games.The friendly matches were played in indoor and artificial turf. It was a difficult trial because we had never played in such surfaces before. But I was praised by the coach (Rune Skarsfjord, ed) after the trails ended.''

Timothy Anjembe is now a successful professional footballer in his own right. He is one of the highest paid players in the Vietnamese championship. Last season,
he notched 17 goals in 26 matches for capital club Hanoi FC to become the top scorer in the V - League.
Latest News