Oke Akpoveta Scores In Vain For Brondby
Published: February 15, 2013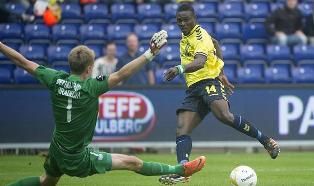 Brondby played a test game on Friday afternoon against Pandurii, which is fourth on the log in the Romanian championship. The Danish Superliga team put in a strong performance.
Pandurii took the lead after 37 minutes of play through midfielder Claudiu Voiculet. Romanians led 1-0 at halftime.
One time Warri Wolves striker Oke Akpoveta was introduced just before the start of the second half and it took the youngster only 4 minutes before netting an equalizer for Brondby.
But ten minutes before the end, Lemnaru snacthed a winner for the Romanians. Despite a good second half, it was a defeat for Brondby.
Nigerian midfielder John Ibeh did not play for the Pandurs. He has not played an official game for the club since October last year.