Don't Blame Me For Juventus Loss - Efe Ambrose
Published: February 15, 2013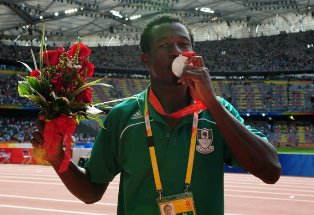 Efe Ambrose last night hit back at Kris Commons over Celtic's Euro defeat to Juventus and blasted: Don't blame me.
The Nigerian was singled out for criticism after being at fault for two of Juve's goals in the 3-0 Champions League loss.
Commons questioned whether Ambrose was in the right condition to play — just 48 hours after starring in the Africa Cup of Nations final in South Africa. But the gutted stopper responded angrily to that personal attack as he opened his heart to
SunSport.
Ambrose told
thescottishsun.co.uk
: "No one individual should be blamed for the loss. Football is a team game, we lose and we win together.
"Jet-lag did not affect my performance — I was not affected by the journey.
"It is just that football did not go our way on the night. If we had won, I would NOT have been criticised.
"Instead, I would have been praised for my professionalism in deciding to travel to the UK instead of Nigeria with my international team-mates."
Celtic need a miracle to reach the last eight after crashing to that first-leg defeat at Parkhead.
But Ambrose insists the Hoops CAN overturn Juve's advantage — IF they bag an early goal in the Turin return on March 6.
He has promised that Celtic won't be caught cold by the Italians again.
And he believes Neil Lennon's men have the ability to pull off one of the greatest comebacks in European football history.
He said: "I still believe we can qualify because nothing is impossible in football.
"So many great comebacks have been recorded in the Champions League.
"We have learned from our mistakes.
"If we can score a vital early goal, it would give us a lot of confidence to even score more.
"We are used to playing in intimidating stadiums. We played in Barcelona and in Moscow and we gave a good account of ourselves.
"We now have a lot of time to prepare for the second leg. Everybody should remain positive."