Stephen Worgu Misses Norway Deal
Published: February 21, 2013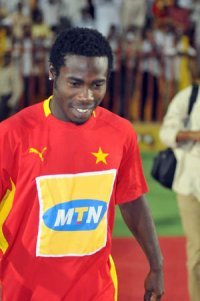 Former Sudan based striker Stephen Worgu has sensationally missed a chance to take his game to the Norwegian Premier League when he failed, for reasons best known to him, to attend a visa interview in Abuja.
He had a very nice offer from a top Norwegian club and the sports management company facilitating the deal had already secured him a visa appointment, paid for his flight and accomodation in Abuja, paid visa fees, travel insurance and all that was left was for Stephen to go to the embassy and collect his visa but alas on the interview date the left footed bomber was miles away in Port Harcourt.
Revealing this to
allnigeriasoccer­.com
, a source very close to the company expressed their disappointment at the player's attitude, and lamented that it had done their reputation much harm.
"Players can be very wicked, especially Nigerian players. That's why we prefer to deal with other nationalities," he began on the grounds of anonymity.
"Can you believe that our representative went all the way to Port Harcourt to see Stephen, and in Stephen's very front he paid for the visa fees and made other commitments.
''The club also spoke with him several times, and a day before the interview our representative called him on the phone to ask for his next of kin's name so that he (representative) could go ahead and pay for the travel insurance required to issue a visa.
''Before then, the club had been in touch with the Norwegian embassy and everything was ready, all that remained was the players physical appearance and visa would be his.
"However, the player had other plans and soon stopped taking our calls and even when we sent sms he rarely replied. We never knew that he never intended to go for the visa, for reasons best known to him.
''He could have told us, but he didn't, and on the appointed day he failed to turn up at the embassy, not caring what repercussions that would have on our relationship with our clients and his career.
''What is surprising about this is that he was the one previously begging our representative to help get him a club, even before his Sudan contract ran out.
"That was very wicked of him, but we leave everything to God and wish him the best in his career. He missed an opportunity to play in a very competitive league but may be God has better plans.
''We have another club seriously seeking his services but it would be very foolish of us to try and dela with him again. " concluded our source.
Latest News