Spanish Embassy Continue To Frustrate Nosa, Rule Birth Certificate Invalid
Published: February 27, 2013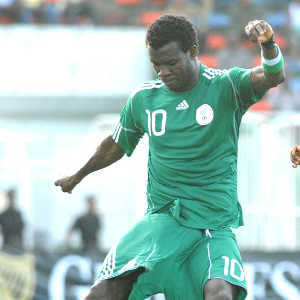 The Spanish Embassy in Lagos is giving Nosa Igiebor a hard time processing his residence permit.
It would be recalled that the German authorities did not allow the Real Betis midfielder come down from the plane in Frankfurt on Saturday, February 16.
Nosa was sent back to Nigeria to authenticate his papers. That bureaucratic problem is far from being resolved, writes
estadiodeportivo.com.
The latest twist in the soap opera which is not nearing climax is that the duty officer at the Spanish Embassy(21C Kofo Abayomi Road Victoria Island ) informed Nosa that the birth certificate he submitted is not valid!
Once Betis and Igiebor submit the original documents to the embassy, his application is mere formality.
Nothing is further from the truth. Nosa is becoming very desperate in getting his permit from the embassy.
Only yesterday, Tuesday, he was seen making frantic phone calls presumably to highly placed political associates to get him out of the unpleasant situation. But that was unsuccessful throughout the afternoon.
Another option Betis considered in resolving the mess was to involve former club hero Finidi George, an influential figure in Nigeria.
But that was discarded because of the nature Finidi departed the club, sponsored by the current board of directors with the connivance of the Commercial Court.
The saga continues and it has no expiry date. However, Nosa's Spanish representative
Kenneth Asquez is doing all he can for his client to return to Spain.
Meanwhile, the attacking midfielder is 15 days late, and he could be sanctioned financially on his return to Seville.
Latest News