Solomon Okoronkwo To Play In Hungarian Third Division
Published: March 04, 2013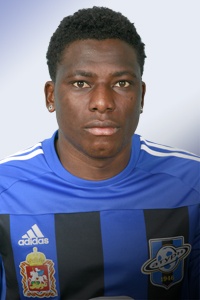 Nigeria international Solomon Okoronkwo was declared surplus to requirement at Hungarian club PMFC in the January transfer window following the arrival of new manager, Gábor Márton.
Okoronkwo's search for a new team was unsuccessful. Now he has been relegated to the Pecsi MFC II squad, which plays in the National championship III or equivalent of third division.
''Yes, it was an unpleasant surprise when they told me all this, I did not expect it.
''It was very late. They said that there is no place in the first team, and in the winter it is inherently difficult to change clubs.
''I could not go somewhere else. I'll stay here and wait what happens,'' Okoronkwo told
bama.hu.

Solomon Okoronkwo is naturally disappointed that he has no place on Pecsi MFC's first team. At the same time, he is happy that his German wife Claudia is pregnant and will give birth to a boy later this month in Pecs.


Previously,

the Beijing Olympics silver medalist was the highest paid player at
PMFC. His existing contract has been re-evaluated in favor of the club.
Latest News