Martins Warns Teammates To Be Wary Of Eremenko, Rondon
Published: March 06, 2013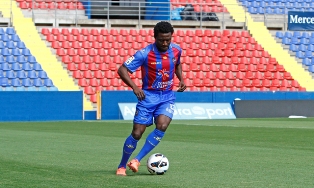 Ahead of Levante's Europa League clash with Rubin Kazan, Obafemi Martins has warned his teammates against complacency, and they should be wary of Eremenko and Rondon.
AS.com
quoted Martins as saying: ''The merits of Rubin Kazan were seen in their confrontation with
Atletico Madrid.
It is physically very strong team, operating reliably in defense and able to use their chances
.
''It should be noted that Roman Eremenko can play a decisive role in this team. In addition, we should not forget Salomone Rondon .''
Obafemi Martins suffered an injury during training on Monday after coming off worse in a collision with Loukas Vyntra.
Rubin Kazan have announced that the injury is not too serious. Therefore, the Nigeria international could play his third game in the Europa League against his former club on Thursday.
Martins scored in back - to - back games against Olympiakos Piraeus in February.
Photo Credit: levanteud.com