Mikel Pleads With Disgruntled Fans
Published: March 11, 2013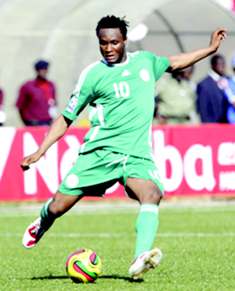 Chelsea midfielder Obi Mikel has pleaded with disgruntled fans to stop their negativity towards manager Rafael Benitez, who was booed during the FA Cup match against Manchester United on Sunday.
The Nigeria international is the first player to publicly show his support for the Spanish gaffer.
Speaking to
London
Evening Standard
, Mikel said: ''Sometimes it doesn't help when the fans are not happy. When you give the ball away there is pressure. This is our job. Fans come to watch the football and we have a responsibility to pay them back and make sure we play well. Every game we try to do that, sometimes it works, sometimes it doesn't.
''I have been here for seven years and they (the fans) are fantastic and have always supported us until the end. I hope that continues throughout the season.
'This is when we need them the most. Let's hope we can all go through the rest of the season together. Chelsea fans have always been great and I know they will continue to be great with the players.''
Mikel has spent seven years with Chelsea, taking part in 177 matches for the club in the Premier League.
Photo Credit: National Mirror