Levante Sporting Director Criticizes Obafemi Martins
Published: March 12, 2013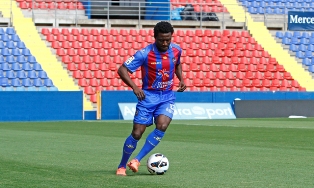 Levante sporting director Quico Catalan has criticised Obafemi Martins, and has admitted that his departure was the best for both parties.
Martins has signed a two - year - contract with MLS club Seattle Sounders, after paying his buy - out clause of around 3.6 million euros.
''When a player does not want to wear the shirt of Levante then he will not be selected.
''We had decided not to accept an offer, but he has deposited the money for the clause. We have seen the best that could have occurred, because the player has shown that he did not want nor did he deserve to wear this shirt.
''When you plan for a season, the hope is that all you who you begin with run through to the end. I always say that things happen for good and what has happened is what has had to happen,''Catalan told
football-espana.net.
He added:''Levante are limited by economic aspects, but the operation is well-rounded, in sporting aspects it is pretty interesting and at an institutional level it has made us great, allowing us to grow and has allowed us to be the club we aspire to be, a serious club, with ambition, and neither Martins nor anyone else will change the history of this club.''
Obafemi Martins netted 9 goals in all competitions in his six - month spell with Levante.
Photo Credit: levanteud.com