World Exclusive: Agent Confirms Ejike Uzoenyi Has Joined Rennes
Published: March 12, 2013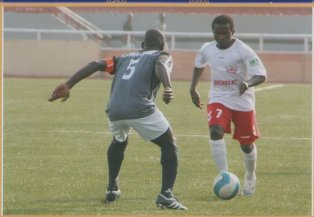 In this interview, French agent Letrocquer Xavier, who represents Ejike Uzoenyi, answers questions from
allnigeriasoccer.com
's Editorial staff on the the club situation of the Nigeria international. He has plenty to say.........
Can you confirm media reports that Ejike Uzoenyi has inked a contract with Ligue 1 club Rennes?Letrocquer Xavier
: ''Ejike has joined Rennes on loan until the end of the season. And yes a contract has already been settled for the years coming.''
Do you think his playing style is suitable for the French championship?Letrocquer Xavier:
''Absolutely!
French scout of Stade Rennes FC and especially the Head Coach were looking for a player with the characteristics of Ejike.
''A player able to play right or left wing. He is naturally gifted with technical skills, explosive, ability to make the assist with short and long pass. All those skills
,
the head coach Frédéric Antonetti was looking for at that position.
''Don't forget that Antonetti is the one who offered the first opportunity in the French League to the young talents he managed like Essien(Bastia) Alexandre Song(Bastia) and M' Vila of Rennes. So if the head coach believes in him, he knows what he does due to his big experience.
''Ejike will need time to acclimatize to his new team, new football, new teammates and new culture. This is normal for a young and new player. But he will improve day after day with him and will confirm and develop all the potential he already has today! No doubt about it!
''But there is only one truth to succeed. Humility, big commitment every day and involvement at the training session, concentration and being a hard-worker. These are the keys!''

Before Uzoenyi's switch to Rennes, he did undergo trials with Marseille.Why was he not offered a contract despite impressing during trials, according to reports in France?

Letrocquer Xavier :
''The situation is simple concerning Marseille. I always want the best regarding the interest of the players I manage.
Sure Ejike impressed everybody and especially head coach Baup and all the players of OM.
But the first step when a player is moving to Europe, we have to look at the big picture
in order to work out the best plan for the player.
I am convinced we created a positive first step in Europe for Ejike with Rennes.''