Obafemi Martins Wishes Levante Good Luck Against Rubin
Published: March 13, 2013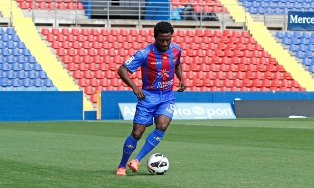 Nigeria international Obafemi Martins has completed his switch to Seattle Sounders. Consequently, he won't play a part in Levante's Thursday night Europa League fixture against one of his former clubs Rubin Kazan.
Despite Martins' departure from Levante in circumstances that were far from cordial, he has wished the Spanish club good-luck against Rubin Kazan, where he spent two seasons.
Championat.com
quoted Martins as sayimg: ''I am grateful to the fans of Levante, who wanted me to stay until June. However, I have decided to leave the club. Wish Levante defeat Rubin. I am very happy, but will miss the former team-mates.''
Martins, 28, scored in back to back Europa League games against Greek opponents Olympiakos Piraeus last month.
Photo Credit: levanteud.com