Official: Seattle Sounders Unveil Obafemi Martins
Published: March 16, 2013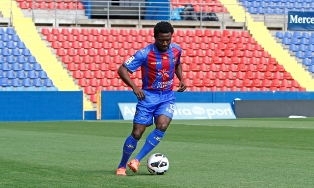 Major League Soccer side Seattle Sounders have officially announced the acquisition of Nigeria international Obafemi Martins, who arrives from Spain's Levante.
As per club policy, the terms and financial details of the contract were not disclosed.
''I'm happy I'm here. Chris Henderson came over to Valencia in Spain and tried as hard as possible to bring me here. Now I'm glad I'm here and I can't wait to see my teammates,'' says Martins to the official website.
The 28 - year - old ex Inter Milan, Newcastle and Wolfsburg striker is eager to link up with his new teammates.
''They have great players. They have a great team right now, because I've seen them play. I'm going to say I'm happy to be here and I really want to play with them,'' he said.
Martins is in good physical condition and could even make his debut against Portland Timbers on Saturday.
He has been handed the number 9 jersey for the 2013 season.
Photo Credit: levanteud.com