Wisla Krakow Striker, Emmanuel Sarki Thanks Dosu, Makelele
Published: March 18, 2013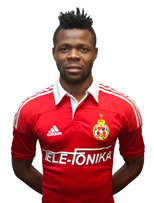 Former Nigeria international Emmanuel Sarki says he owes much to his godfather Joseph Dosu. After the Wisla Krakow player lost his parents in a car crash , Dosu, a former Super Eagles goalkeeper, played the role of a father figure.
''He was just the man who directed me, after I lost my dad, mom and brother in a car accident and I had no one who could take care of me.
''He took me to his house and introduced in the football world. So I definitely owe it to him that I am a football player,'' Sarki, who has played 2 games for Wisla Krakow since his arrival, told
weszlo.pl.

In addition to the role played by Joseph Dosu, Jose Mourinho and ex France star Claude Makelele also had a big impact on Sarki's career.

''I would say that a person who has had a big influence on me was when Claude Makelele. He was the one who gave me courage.

''In Chelsea, he told me what and how to do it. How not to be afraid of those big guys just because they have a contract with the first team, because I also belonged to Chelsea.

''He told me to treat them normally and not with such fear and awe at the same time, just because they are on TV, etc.., Because we are all the same,'' said Emmanuel Sarki.

Sarki failed to make a first team appearance for Chelsea and he was subsequently shipped on loan to Belgian club Westerlo. There he bought a house and met his wife.

''
I went out of the jewelry store at the railway station when a woman came up to me ...
Can you help me?
- She asked.
I want to go to Amsterdam, but I lost my luggage.
Money, documents, I do not have anything.
Lend me 40 euros and give me your address.

''
At first I thought she was ... a prostitute. All right, lend, but I want to see you buy the damn ticket." Moments later, she got on the train and drove away. After a few days she gave the money. We exchanged a few words on the phone.

''Shortly after that we played a friendly match in Amsterdam against Ajax. I saved her number, so I called again and asked if we could meet. Future. It turned out even that lives near the stadium ... we recently had our first child.''

25 - year - old Sarki is under contract with Wisla Krakow until the end of the season. That deal could be extended for an additional two years if he impresses manager Tomasz Kulawik.

Photo Credit: wisla.krakow.pl