Fifa Blocks Barcelona From Signing Nigerian Striker Bolaji Adekanye
Published: March 20, 2013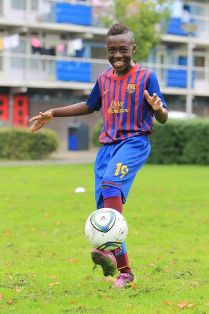 After receiving two anonymous complaints, football's governing body Fifa has reacted by banning the Nigerian striker Omobolaji Adekanye, 14, from representing Barcelona in competitive matches.
Adekanye's recruitment by the Catalonian club violated Article 19 of the
Regulations for the Status and Transfer of Players.


Going by FIFA rules, players yet to attain the maturity age of 18 cannot be transferred internationally, as the world football governing body moved to stem the rampant cases of trafficking in underage players.
But there are three exceptions to the rule according to
Mundodeportivo.es:

1) If the parents change their address to the country where the new club is located for reasons not linked to football.

2)
If the transfer takes place within the territory of the European Union (EU) and the player is between 16 and 18
.
3) If the player lives in a home at a distance less than 50 km from the border, and the club neighboring association is also within a distance of 50 km of that border.
Fifa's ban extended to five other Barcelona youth - teamers. The club has written to Fifa contesting the verdict.
Photo Credit: blaugranas.com