Kenya Skipper, Dennis Oliech: One Of The Important Games In Kenya History
Published: March 22, 2013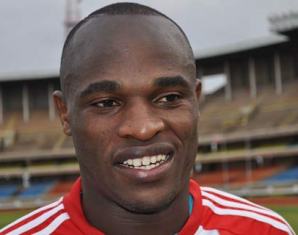 Dennis Oliech, skipper of the Harambee Stars, has shared his thoughts and impressions on the upcoming World Cup qualifier between Nigeria and Kenya.
Oliech, who made his name with Ligue 1 club Auxerre, is eagerly looking forward to the clash. Recall that he made his international debut 11 years ago in a 0 - 3 loss to the African champions.
Speaking to
Brila FM
, Oliech said: ''It is a pleasure playing against Nigeria because they are a big power. Every player wants to play with a big team. If you don't play with a big team, you are not happy at the end of your career.
''I am happy that I have played with this type of team. Those players that have not played with this team before, this is their chance. They need to prove to the world that they can play against Nigeria.''
Going further, Dennis Oliech said that the encounter against Nigeria will provide an opportunity for the domestic players in the Harambee Stars squad to showcase their talents to scouts.
''Of course, this is a big opportunity for the local Kenyan players. We have so many agents coming to pick Nigerian players and maybe they can get one or two Kenyan players. They can have their chance to go to Europe. This is one of the important games in Kenya history.''
Based on the training sessions of the Harambee Stars, coach Adel Amrouche will deploy Dennis Oliech as the sole striker in a 4 - 1 - 4 - 1 formation.
Photo Credit: michezoafrika.com