Official: Francisca Ordega Inks Deal With Pitea IF
Published: March 25, 2013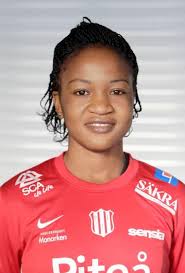 Swedish outfit Pitea IF have bolstered their ranks with the signing of Nigeria international Francisca Ordega.
Though the duration of the contract was not officially disclosed, it is thought the 19 - year - old striker has penned a one - year deal with Pitea IF, who pay the wages of another Nigeria international Faith Ikidi.
Only last week, Francisca Ordega was part of the Pitea IF squad that participated in the Norrporten cup .
''She is a witty and clever player with the ball, a typical Nigerian player. Then it is obvious that there is a big change for her to come to Sweden, so she's in the middle of a transition process, so it will take a while before she gets used to it.
'' There is a big difference in how we play football in Sweden and how they play in Nigeria. It's for her to learn how we are doing.
''We have Ikidi with us that describes it very good, it took several years for her to find her way in our model. So we have to be patient with Francisca, she will get into it better every week that passes,'' says coach Stellan Carlsson to
damfotboll.com.
After Ordega's success at the last Fifa Under 20's, she bagged a contract with Russian Premier League champions WFC Rossiyanka.
However, she got injured almost immediately and had to return home to Nigeria to undergo rehabilitation.
Photo Credit: pitea-tidningen.se