Warri Wolves Have Paid Rangers For Sunday Mba
Published: March 27, 2013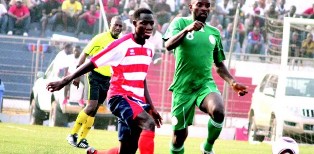 Warri Wolves have claimed they paid 3.5 million naira (more than $21,000) into a private account of a Rangers top official in respect of the transfer of AFCON star, Sunday Mba. Warri Wolves media officer Moses Etu said on a radio programme in Enugu on Monday that his club actually paid the sum of 3.5m naira to Rangers when the player moved to Wolves two seasons ago.
Etu said the payment was made to the private account of the general mßanager of Rangers, Paul Chibuzor, who instructed them to make such payment.
"We have all the documents regarding all our dealings with Rangers with regards to Sunday Mba. We got a provisional clearance from Rangers on Sunday Mba when he joined us and we paid the sum of N3.5m to Rangers through the private account of the GM of the club, Paul Chibuzor, who instructed us to make such payment," the club official said.
"It is laughable that after selling a player to us, they still come to lay claim to him just because he performed well at the Nations Cup and clubs are after him with mouth-watering offers.
"We are resolute in our claim that Mba is our player and we are ready to give Rangers the 30 percent sell-on clause attached to his release whenever we sell him to a foreign club."
However, Rangers media officer, Foster Chime, has shot down the Wolves' claim.
"It is stale news. In Abuja, the GM tendered documents and bank tellers with regard to payments made by Wolves. At no time was any money paid in respect of Sunday Mba, but for Togolese defender Busari Akinsola and it was never paid to the GM's personal account. The G.M has even started legal proceedings against Moses Etu for defamation," said Chime.
(Source: MTNFootball.com)